I turned 28 this year. Which as you know is only 2 years away from being 30. 30 years old? I still think of myself as a teenager! I get ID-ed anytime I buy a drink or go somewhere that is 21 and over AND I always-ALWAYS feel paranoid handing them my ID; like they are going to think I am giving them a fake ID or something. I AM ALMOST 30! Do I look that old (you thirty year olds-you're too damn old...old old old)? I have always looked young for my age. It wasn't a good thing when I was in a senior in high school and was CONSISTENTLY mistaken for a Jr. high student. Am I so full of myself that I think I still look young? Yes. Yes I am. OK, full of myself is not the right phrase...but I do feel like I still look young (please say I look young, please say I look young, please say I look young). Now, I have noticed wrinkles under my eyes becoming deeper, smile lines that remain smile lines for at least 5 minutes after I have stopped smiling, wrinkles in my forehead so deep that I can screw my hat on...ha ha oh. Let me tell you about how I take care of my skin: I tan, I never wear sunblock, I use whatever bar soap is in the shower to wash my face, I sleep with my make upon, I will put make up on top of the make up from the day before, I use my body lotion for my face...YES. I. DO. THIS. (not as often as I used to, but...) Why? I'm lazy. What is wrong with me? I was blessed with good skin, it doest break out, doesn't get dry, doesn't get oily, I have nice pink cheeks, I have good skin. Recently I realized I probably should think about implementing an anti-aging regimen, since I am getting old. Let me tell you, I LOVE LOVE LOVE exfoliated skin. WHY DID I NOT DO THIS SOONER? I need to keep myself young! Here is a giveaway to keep your skin looking young.
Thank you to our Sponsor, Jill Nelson, successful
Mary Kay
Representative, for sponsoring our giveaway!
Here is a little about Jill Nelson, our Mary Kay giveaway sponsor:
My name is Jill Nelson and I have recently become an Independent Beauty Consultant with Mary Kay. I started in this business because I enjoy spending time with fun, strong women who know that beauty is more than make-up and dresses - but that make-up and dresses are still fun. I love the product and I love people.
I'm the best thing to happen to Mary Kay since make-up. I've used Mary Kay make-up for day to day use, a night out, and a recent run as an 80s pop star. It works for everything!
Mary Kay
is known for enriching women's lives and provides customers with beauty products. These products include but are not limited to: Makeup, skincare, body and sun, fragrance, and products for men. On Jill's
Mary Kay
site, you can take part in a virtual makeover and even learn some new beauty tips and trends!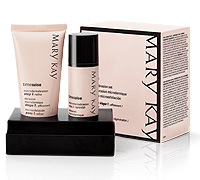 Fight fine lines, refine pores and achieve beautifully smooth skin - immediately - with the TimeWise Microdermabrasion Set. This at-home microdermabrasion set uses the same microfine crystals that dermatologists use. And it's designed to work in tandem with our other TimeWise products. so now you can have the long-term benefits of the Miracle set, as well as immediate results, with this quick, two-step set.
Step 1: Refine
is an advanced exfoliator using the same professional grade exfoliating crystals used by dermatologists, to immediately energize skin and reveal more radiant, healthy-looking skin.

Application:
After cleansing, apply a quarter-sized amount of Step 1: Refine to wet face with fingertips. Using circular motions, gently massage face with fingertips for 1-2 minutes. Rinse thoroughly with warm water and pat dry. Follow with Step 2: Replenish.

Step 2: Replenish
separates the set from the competition. It's a rich serum, containing vitamins, antioxidants and anti-irritants. This serum nourishes the soft, smooth skin revealed by Step 1: Refine.

Application:
Following Step 1: Refine, use fingertips to gently apply Step 2: Replenish. Continue with TimeWise® Day Solution SPF 25* or TimeWise® Night Solution and then TimeWise® Age-Fighting Moisturizer.

Try it! Love it!

These results were experienced after just one week.**
85% saw improvement in skin texture.
73% saw a reduction in fine lines.
71% saw smaller-looking pores.
The winner of this giveaway will receive the COMPLETE
Mary Kay Timewise Microdermabrasion Set.
THE FIRST ENTRY IS REQUIRED)
1. Follow me through Google Friend Connect. Leave a comment on this post letting my know that you follow through google friend and provide me with your email address. (one entry)
(THESE ENTRIES ARE OPTIONAL)
2. Get a friend to follow 'my big girl pants' through Google Friend Connect. Leave me a comment with the name of the person you recruited and provide with me your email address. (one entry)
3. Subscribe to my bog via email. Leave me a comment saying that you have subscribed via email and provide me with your email address.
4. Post this giveaway on FB, make sure you tag me and Jill Nelson. Leave a comment letting my know you posted it on
FB
and provide me with your email address.
6. Go to
Mary Kary
and browse her items, choose your favorite one. Leave me a comment telling me what your favorite item is and provide me with your email address. (one entry)
7. Go to
Mary Kay
and choose an item. Leave me a comment telling me how you would use/wear this item. (one entry)
8. BUY something from
Mary Kay
THROUGH Jill Nelson
. Leave me a comment telling me you made a purchase and provide me with your email address. (5 entries--this means, if you purchase something, you must leave me 5 separate comments in order to earn your 5 entries.)
9. Host a
Mary Kay
party through Jill Nelson; contact her via email jilliandnelson@gmail.com
. There are benefits (besides entries) to hosting a party, these include:
Roll up bag or 10% off their order for every $100 bucks that is sold at the party.
Leave me a comment telling me you are hosting a party and provide me with your email address. (5 entries. Please leave 5 separate comments.)
This Giveaway will end February 23, at 11:59pm.